|| Rosa || Roleplay Character Profile
Created by
SheetScars
/ Replies: 35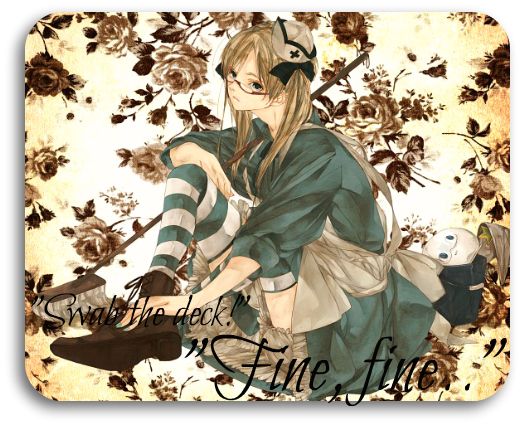 Rosa sat, taking notes and studying. Her parents came from a good family, and she had to be properly educated. Even though women usually weren't. In the light of her lantern, she hummed, jotting things down with her quill. She was very deeply immersed in her task.
However, the sound of splintering wood and things falling interrupted her. Then a voice.
"Oh, just dandy, after some strange man broke my lock. How are you?"
she asked sarcastically. Rosa turned around, very ready to glare at him, but her expression morphed into surprise.
He was very good-looking.
Oh, who was she kidding?
He was damn sexy.
She shivered slightly.
"If you could ever so kindly-- oof! Get off, you little-- ow! Stop!"
she flailed as the man threw her violently over his shoulder and proceeded to hit her back hard to shut her up. She pouted.
"This is

no

way to carry a lady, sir.."
For that one she got a smack on the behind.
She thought about saying something else, but then again, she didn't want to get molested. So she was quiet until she noticed a gentle rocking, which was odd, since most ground was typically stable and unmoving.
She looked up slightly, noticing she was on a ship. From her younger days, sailing with her father, she knew this was a fine ship.
"Could you please release me?"
she asked, getting dizzy from the odd lighting, rocking, and being upside down. She was not-so-lightly tossed from her previous position. She sat, staring up at the dark-haired man from the deck.
"So, um, why exactly did you kidnap me?"
she frowned. Her new dress was getting all dirty.
"And insisting upon me getting my new frocks messy? These costed at least 600 pounds..."
she sighed. Her mother would be so angry at her. Every time she accidentally slipped her mother assumed it was another attempt at being rebellious.
She shook her head at the man. Despite how handsome he was, he was sort of a jerk. Kidnapping a young girl. How scandalous. She played with the ruffles of her petticoat, waiting for an answer from the man.
"Oh, and by the way, I'm Rosa. Rosa Kirkland."