Roleplay Profile of porter15311
Threads:
7 /
Posts:
5980 /
Profiles:
16
Status:
Offline or lurking
Last Seen:
1 years 26 days 18 hours 13 seconds ago
Joined:
8 years 221 days 22 hours 27 minutes 19 seconds ago
Shiny Objects:
5442753
Role Play Profile
Hello! Welcome to my page. I am on often and am wanting to try out a few new rps.Mesage me for details.
clicky clicky! Its uber cute!
I have finished a rp in it's entirety!!!
Boys Vs. Girls war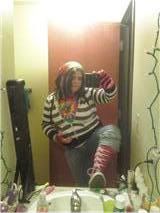 This is me.
My Name Is Katie, I am 22
Baking and Pastry is my major in college
I drink on occasion.
I am a lesbian, and one of the nicest people you'll meet.
My comfort food Is Chili
Favorite smells are dark,dark chocolate, rich french roast coffee, Peppermint and Butter.
yes, butter has a distinct smell. Don't believe me? go soften a stick of butter and smell it
A few of my favorite things
If you havent noticed. I LOVE FOOD
Longest post to date: 3265 charecters/614 words
`
I am Negotiable when it comes to rps, and can comfortably write between 500-1000, pending on what i am given to work with,
Roleplays
+
Fallout style Rp
+
Divergent. A alternate ending. A alternate life.(caution. Spoilers!)
+
Flesh eating creatures <*Blam*> Dead!
+
Welcome to the jungle, We've got fun and games..
+
Have you ever had a song you wanted to rp with? I do.
+
Boys vs. Girls
+
Boys vs. girls war. Reserves for SrRosado