Killer Ward CLOSED
Replies: 13 / 345 days 15 hours 1 minutes 6 seconds
Allowed Users
Welcome, To This Ward or Terror.
Within this psychiatric ward, lies some of the few incredibly insane and extremely infamous killers. Those who adore the screams, and want the blood to fall.
So, let the blood fall down
Let screams repel our fears..
And splatter the white walls. .
That was. . once was. . And Never More.
This ward is meant to help them, to heal the lost causes that is their mind. All the warped thoughts dwelling in the corners of their brains. But, in all truth. . Dealing with killers isn't all that easy. And someimes, you just have to give them what they want. And who knows, what the true intentions of such a psychiatric ward can be? Filled with screeches and screams of terror, and joyous laughter. . and with much pleasure, blood.
Let it all burn away, and rot like the flesh of our. . kills.
And each other. As we . . smile.
Rules.
Swearing is fine
Romance is fine
Gore is awesome
Drama is okay
Creativity is a must
Each post will be at least 250+ words.
Pictures must be well sized, etc
Good grammar
Regular ES rules
No Godmodding
Any questions just ask me
To Join
To join, simply PM me with this skelly, and an example post if I have not worked with you before. No, it example post would not be a post you would be in this rp. It is a post from a previous rp you have done recently.
SKELLY:
Name:
Age:
Short Bio:
Killer Name?:
Meaning what they media called you
Gender:
Username:
Personality traits:
Weapon of choice?:
Desire:
Favorite type of kill:
Link of picture:
PLEASE do not give me links to the link. I want an actual link pasted.
CHARACTERS
Name: Seiiji Leroy
Age: 22
Short Bio: Seiiji Leroy is the Limb Tailor. He is quite suicidal himself, and often finds himself in the corner of his room alone, and slicing away happily at his wrists with quite the grin plastered on his face. But. . because of his love for a bit of blood and guts, he usually cuts too deep despite the pain - only feeding off of such a response. He's almost sliced his hand off numerous times, and always sews himself back up. He'd learned from the many hospital visits, and adapting a bit of knowledge in medicine. How many stitches he's cut and re-sewn in his time. Because if he were to simply let his hand fall, he'd become an amputee - not dead. In his absolute rage to find a simple death, he goes out to bring that gratitude upon others. Finding victims to cut the limbs off, chopping them off and tearing skin methodically, usually with either sewing scissors or a large butcher knife. And for his passion of tailoring. . he re-sews the limbs, and sometimes. . they aren't where they were once before.
Killer Name?: Limb Tailor
Gender: Male
Username:
ManTiaras
Personality traits: He's quite quirky in the sense that he loves being clean. Besides that, he is friendly at times, intelligent and quite helpful. Though warped. He has a tendency to change personalities drastically.
Weapon of choice?: Usually a pair of large sewing scissors, or a butcher knife to slice his victims. Other than that, a simple sewing needle and thick string.
Desire: To give others the happiness there is in death.
Favorite type of kill: He has no preference.
Name: Danika Maurice
Age: 21
Short Bio: Danika was diagnosed as a mute at a young age, never having said a word and worrying her parents. She never enjoyed the silence, as it gave her far too much time to think. No one paid attention to Danika, they forgot she was there. Just like a ghost. Lonely, invisible. Why should she be the only one having to suffer so badly? It began with her parents, they were at fault for creating her this way. First, the sewing shut of the mouth, and then the kill. Not being able to scream or speak, just as Danika had been her entire life. She had given herself these stitches on either side of her mouth to simulate her pain to the world, leaving her mouth open for the purpose of eating and such things. Still, not a sound could be heard. Silence is bliss.
Killer Name?: Hush
Gender: Female
Username:
-Soul-
Personality traits: Quiet, what else? She has large green doll like eyes that stare endlessly at her victims. People would categorize her as insane, but no one can really tell the inner workings of her mind, since she can't say anything.
Weapon of choice?: A sewing needle and black thread to sew mouths shut and a simple dagger for the rest.
Desire: To subject those who put her down for her lack of speech to the same suffering she must go through every day of her life and then cause them to die this way.
Favorite type of kill: She rather enjoys slitting their throats and watching them wordlessly bleed out.
Name: Akira Shimizu
Age: 20
Short Bio: When Akira was four, his father cheated on his mother. His mother confronted him about it, they got in an argument, and his father ended up killing his mother in an excessively violent way: He cut out her heart. He walked over to Akira, who was watching the whole time, handed him the knife, and told him to kill him. He didn't expect him to. He laughed until the knife pierced his heart. Akira grew up to be a famous rock musician, using his hate and rage to excel in music. He also took out his rage on people he saw unfit to live (drug dealers, rapists, sex offenders, ect.). He trained with all forms of weapons, and is proficient with any. In school, he was considered to have genius level intelligence. He was killing since he was 10, until he got caught.
Killer Name?: Elon (one of the judges of the Israelites in the old testament)
Gender: Male
Username:
AkiraShimizu
Personality traits: Kind of a narcissist, always feels alone. He has no one to turn to.
Weapon of choice?: The knife he used to kill his father.
Desire: To cleanse the word of evil.
Favorite type of kill: A knife wound to the stomach, allowing them to slowly bleed out, and talks to them as they die.
Name: Edwin Trenken
Age: Twenty-eight
Short Bio: He was born with a psychotic disorder than cannot quite be placed, but it drove him to end human life in very malicious manners. He craved the sight, and the screams, the begging and the final hilt to end the life.
Killer Name?: The "X File"
Gender: Male
Username:
DollFace
Personality traits: Charming, seductive, wicked, intelligent, bold, unfearful, psychotic
Weapon of choice?: Large variety
Desire: After each kill, he carves an 'X' behind each victim's right ear.
Favorite type of kill: Each kill is his favourite, as they are all creatively crafted to suit his vicious fantasies.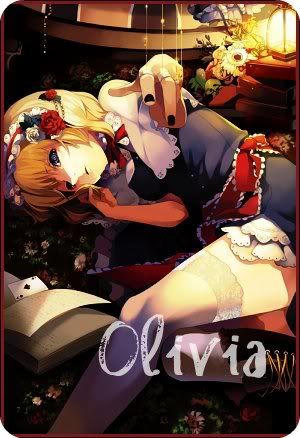 Name: Olivia Burns
Age: 20
Short Bio: Olivia grew up in a traveling circus family. They would tour the country with other families and make numerous stops in different towns for small shows. Olivia's family was known for their puppet shows.....staring her. Her fingers have permamnent indents from where the almost invisible string had been tightly tied; all to control her every movement. Some thought it was part of the act. Others who knew what the true show was knew that it was all real. Late at night, by invitation only, her parents would control Olivia's motions to preform erotic dances of a sort. Its what brought a majority of the money in they say. Once she turned 17, she murdered them; and left them hanging in the trees by those same strings they used on her.....all of there limbs were broken in odd angles....
Killer Name?: The Puppeteer
Gender: Female
Username:
PippyLee97
Personality traits: Enormously feminine. She enjoys cute, girly, and basically child-like things. She's obssessed with the innocence of children, something she wished she could have kept longer.
Weapon of choice?: Strings, rope, anything binding.
Desire: To always be the controller. The master. The Puppeteer.
Favorite type of kill: Hanging, after tugging the limbs until they break.
Name: Zyla Webbe
Age: 24
Short Bio: There was never anything wrong with her. A perfectly normal child at birth and she could have been that way. Her parents are the ones who created a monster. A shame they paid their price so early. Now every one else must pay the price as well. Once her parents were gone, so was she. The dark became her home and people's fear was her food of choice. Once a death was complete, she'd carefully groom her victim before placing them delicatly in their graves. She'd plaster the photos every where of her 'sleeping beauty', as she called them. It surprised her it took so long for her to be found, since she never really hid. Always in plain site, in fact she quite simply walked into the police station and gave them clues about herself. Though they were too dense to catch on right away.
Now she's merely a dilusional, vain woman who can only thrive on teasing the nurses.
Killer Name?: The Graveyard Photographer
Gender: Female
Username:
CookieMonster
Personality traits: Extremely vain, her appearance and other's matter greatly to her. Narcasistic, cold, demented. Intelligent and quiet.
Weapon of choice?: Whatever pleases her in the moment.
Desire: To have her camera back and go back to the way life was.
Favorite type of kill: Someone who begs and pleads. She lets them live a bit longer just to thrive on the power.
Reply
You don't have permission to post in this thread.
---
I'm posting programming and technology video tutorials again as JimmyRcom on youtube. Please follow!
-- Your loving webmasta who works hard to keep the site free and efficient
Roleplay Responses
Roleplay
1
2
All posts are either in parody or to be taken as literature. This is a roleplay site. Sexual content is forbidden.
Use of this site constitutes acceptance of our
Privacy Policy, Terms of Service and Use, User Agreement, and Legal
.