Katekyo Hitman Reborn : The next Varia
Replies: 2 / 1 years 71 days 20 hours 38 minutes 23 seconds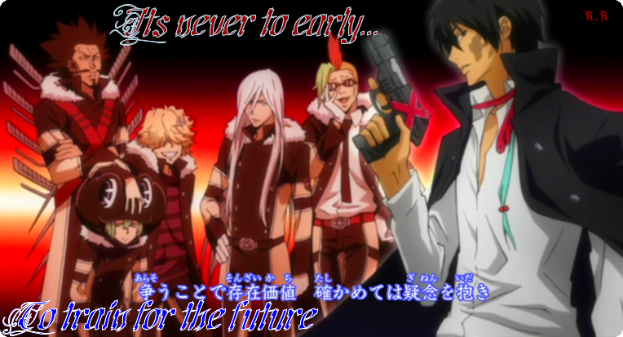 Days go by since the day Tsunayoshi Sawada became the Vongola tenth, then months, then ten years, then twenty or so. The times were peaceful and nothing new was happening. Or rather, life was as peaceful as they can be when dealing with the mafia life.
Of course during that time new friendships were formed and new relationships as well. Even the 9th Independent Assassination Squad, The Varia, were included in that group. Getting on in age and not getting any younger, the time has come for them to chose a their successors.
That in itself is not easy for the new generation, especially since the test they have to go through would break a lesser being. Their minds and resolve are constantly tested and it seems times may only get harder. Then, right as it's time for their initiation , utter chaos breaks out.
Enemies crawl out of the woodwork and who else should be called in on the frontlines but The Varia. The younger generation is sent in, the older waiting nearby in case of failure. It's the ultimate test for a group who've never really worked together in the first place and the ultimate ultimatum : Protect the Vongola, or die trying.
The Characters
The new Varia
The Sky, Xanxus's future replacement : TAKEN
Finrir- Daughter of Xanxus who takes after her father, over-protected but as strong as her dad.
The Storm, Bel's future replacement : Taken !!!
Mehrere.- It is a foreign word to mean multiple. She is tainted with the disorder of having multiple personalities - or so, only one other that wreaks havoc within her as often as possible. Though over the years she has gotten better at controlling the presence within her - if there is one at all - the person lingering inside the very bowels of her heart, still awakens and brings upon the insanity in her. Despite her almost childish and quite young appearances, she definitely would bring on the storm. . and all the destruction with it.
The Rain, Squalo's future replacement Taken !
(lastname, first)
Bishamon, Jiro
Short description: Jiro has been traind since he was ablw to walk to be in the Varia. He can use the waters to his advantage, and is incredably smart. He just likes to make people think he is dumb, loud, and clueless so that they will underestamate him in battel and lose because of their argonce. Jiro never knew his mother haveing been taken away from her at birth. He plans on finding her once he becomes the Varias' next rain gardian. Jiro is completely loyal to the Vongola and the Varia-more so to the Varia-he would lay down his life if it ment protecting either of the two.
The Lightning, Levi's future replacement Taken !
Xeros - Xeros is extremely naive and easily distracted and often strays from the mission Varia are doing. Unlike most of the Varia she isn't committed to the Vongola Family. She doesn't mind who she works for as long as she gets paid for a reasonable price. She likes to avoid fighting unless she's 'pushed' to our required to, because of the fact she resents the ideal of killing. Xeros isn't very close to most of the Vongola, and Varia, and for that reason has a hard time getting along with them, and doesn't understand the Vongola/Varia's missions. For her its more like a game, and often disappears during missions wanting to rather do something like shopping. She likes being in her comfort zone and doesn't like using head-on attacks. Her weapons consist of using weapons using 'dirty tricks' - she mostly uses electric needles and explosive bombs. Her 2 main box weapon's are the ones she inherited from Gamma, Elettro Volpi, and Nero Volpi.
The Sun, Lussuria's future replacement Taken.
Ruka is a fairly cheerful and energetic person, but she is also quite devious (especially when playing card games, she normally cheats people out of money) Ruka loves playing card games and being outside in the sun. She is the sun gaurdian and uses a deck of cards as a weapon.
The Mist, Fran's future replacement TAKEN
Kazu-Kazu is silent but deadly. He make look like a girl but he's not. Kazu was cursed with his feminine looks since birth, and all his life people have mistaken him for a girl. What they don't know though is Kazu was trained by his mother to be the best illusionist there was. He fights with senbon needles and his mist illusions.
The Cloud : Taken !
Alexander-Alexander had always been a bit of a loner. Never really getting into the whole team thing but when he had to he was known for his unstobable will and continual movement through any battle feild to complete his objective, usually leaving the team behind if he felt like it.
The "Old/Current" Varia
Xanxus
Squalo
Bel
Levi
Lussuria
Fran
The others
Reply (This post has a 150 character limit.)
---
I'm posting programming and technology video tutorials again as JimmyRcom on youtube. Please follow!
-- Your loving webmasta who works hard to keep the site free and efficient
Roleplay Responses
[[This is a little bit about my character]]
Ruka is a fairly cheerful and energetic person, but she is also quite devious (especially when playing card games, she normally cheats people out of money) Ruka loves playing card games and being outside in the sun. She is the sun gaurdian and uses a deck of cards as a weapon.

Anyone who wants to join just needs to either PM me or write a short paragraph about your character or whatever. Just a heads up, I have the tiger box animal and would appreciate no copies or anything. Also, I am changing the character limit to 300 once we start AND NO DITCHING !!!

Roleplay
1
All posts are either in parody or to be taken as literature. This is a roleplay site. Sexual content is forbidden.
Use of this site constitutes acceptance of our
Privacy Policy, Terms of Service and Use, User Agreement, and Legal
.