Problems
Replies: 1 / 1 years 109 days 10 hours 15 minutes 41 seconds
Allowed Users
[Allowed] jessiebunnyxp
We all have our problems, some more then others, but that's okay, because it all evens out.
A gang ridden city.
Good Guys
A group of gang ridden friends. No one can survive this type of pain, but they will. They'll never give up, no matter how badly it hurts them. The girls stay at the warehouse all the time, while the guys go off and do God knows what, God knows where. Abbie's among them.
General members: Lost, alone, hurt. People on the streets find a nice place to live here, even though it's just a run down, seemingly abandoned warehouse. A lot of girls that have been brought into the gang life by the bad gang and came here to escape them all. A lot of them have dated the leader of the bad gang at one time.
Location: Industrially located. Old abandoned warehouse that is unnoticed by most people seeing as no one goes there any more.
Bad guys
A group of people connected only by power. Connected by blood to the good guys. Leader is one of the good guy's older brother. He doesn't know it. They move around a lot, taking other gang's territory, and other people's lives.
General members: Men driven by the want of power, money, and/or sex and their girlfriends. No one cares about what happens to anyone else, and that's why the good guys HATE them so much.
Locution: Across the city from the good guys in black neighborhood. Next to bar. Live in an old apartment building. Stay on the top floors.
(When bad guys start joining they can fill this out more. :D)
Skelly:
Name:
Nickname:
Gang:
Age:
Personality:
Theme song:
Favorite color:
Appearance:
Writing sample:
Rules
*Real pictures/Scene
*Romance is a must
*Drama is a must
*Violence is a must
*Cursing is okay
*Posting limit of 1000 characters
*Follow all ES rules
Characters
Good
Name: Abbie Ann Love (Lvoe)
Nickname: Abs
Gang: Good Guys
Age: Age 16
Personality: Sweet, quiet, soft spoken, stand offish. Not one to go out and make friends, laid back. Doesn't believe in love. Hides behind her lies, no one knows the real her.
Theme song: Make Damn Sure by
Favorite color: A deep, deep red, almost a purple, but red, metallic like, SHINY!
Appearance: Red hair, almost black empty eyes, Brown eye brows, long lashes, snake bites, nose piercing, and belly button piercing, wants a tongue piercing.
Writing sample: From the roleplay: FORBIDDEN
Alice wiped Angel's tears and kissed her forehead. She then returned her sister's hug. She had known of how careful her little sister was being, but she hadn't thought that it was because of any of her friends. She'd slapped Stacy the moment the words had fallen so carelessly out of her mouth. She demanded that she apologized to Angel and she had, right away.
She didn't want her sister to feel like she always feel short of perfect, she got the good genes, she couldn't help it. She sighed, "Never let anyone tell you that you're short of perfect, cause you're better then them. You're gonna find an amazing kind, caring man that wants a family and will never leave."
Alice looked Angel in the eyes, she could see her pain, she didn't like that, not one little bit, she was sure that her eyes reflected the same pain. It saddened Alice so much to know that he sister didn't see the perfection that she saw in her in her mirror.
Reply
You don't have permission to post in this thread.
---
I'm posting programming and technology video tutorials again as JimmyRcom on youtube. Please follow!
-- Your loving webmasta who works hard to keep the site free and efficient
Roleplay Responses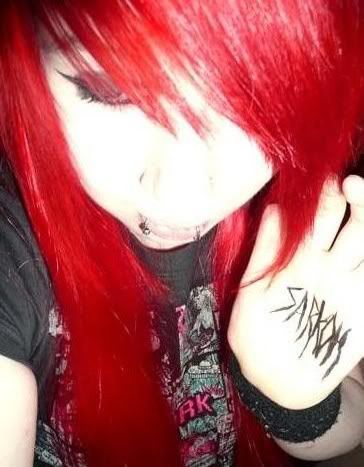 Abbie walked down the street silently, Her red hair shined innocently in the sun light, her nearly black, empty eyes stared off. Nothing had ever been the same since she ran away from home and wiggled her way into a gang. She wasn't sure she liked it, but hey, it was like a new family to her. Ya know, minus the bitchy mother popping pills in the kitchen, and your ass hole brother demanding control over your life.
That was years ago tho. Three to be exact, to the day. Ran away on her thirteenth birthday. Happy birthday Abbie! She whispered to herself. She hadn't been home at the warehouse all day, on account of waking up in the park. How she'd gotten there, she haven't a clue, but her back really hurt so it had to have been fun.
Now, she reached the back door of the ware house and snuck in and up to her room. 'No one be here, no one be here!' She didn't want her birthday to be a big deal. She unlocked the door to her room and pushed her way in, She closed the door and locked it behind her and then turned her music all the way up and laid down on her bed.
She closed her eyes softly. She concentrated on the music, trying to stop herself from falling asleep, and hummed quietly, softly.
Roleplay
1
All posts are either in parody or to be taken as literature. This is a roleplay site. Sexual content is forbidden.
Use of this site constitutes acceptance of our
Privacy Policy, Terms of Service and Use, User Agreement, and Legal
.