ℭẹạṛṣ of the ℊọḍḍẹṣṣ : Ġọḍṣ ọḟ ṫḣẹ Ṗḷạġụẹ
Replies: 445 / 2 years 50 days 15 hours 6 minutes 39 seconds
Allowed Users
[Allowed] xstilldollx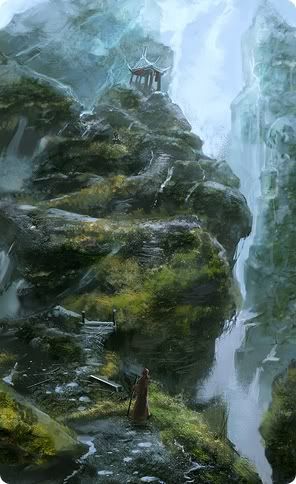 Did you know, that every time harsh rains drowned and punished your opponents, it was really the work of the Tempest? Or that holy water was
really
the blessing of the Stormstress? The oracles of the Stormstress and her sister Tempest is of an ancient magic once worshiped hundreds of years ago.
These blessings were
hand given
by the goddesses themselves to their disciples (nicknamed)
Droplets
, who distributed the magic to the
worthy
. Born from the purest waters from The Fountain of Youth, these spirits were in charge of caring for the
vitality
of humanity, and to help them overcome their self destructive nature.
The power of the Tempest can be described as the rawest form of water, it lashed at its foes mercilessly, blinding them with rain that stung the skin. While the blessing of the Stormstress purified one's soul and body of wounds. It was a water so tranquil, it was often used as a death ritual by priest to purify the soul before they received judgment.
It is said that their shrines are almost
impossible
to find, hidden behind treacherous mountains and thick forests. However, in the increasing corruption and greed of humanity, a search squad of twenty five men would begin their journey for the
Fountain of Youth
, the birthplace of these once worshiped Deities. The search was assumed unsuccessful after the journey men did not return for years. Little did their relatives and loved ones know, they were successful. The group of humans built a dam in the middle of
The Crescent of Flowing Water
, once a
sacred
shrine to Ophelia the Tempest, and harbored her waters for themselves..
Years later, the men returned, mapping a route to the shrine and leading their relatives back to the once holy site. The shrine, soon after had been desecrated. Despite this, the stormstress
begged
her sister to not lose faith in humanity, and still stood in their steed. Angered, but still willing to forgive, Ophelia attempted to hear her sister's please and spare humanity for their stupidity... Until one day, a child urinated in her pond. Disgraced and enraged, Ophelia turned her back against humanity, and even against her sister who loved them so much.
Ophelia The Tempest stole her sister's pipe, and hid it from her as revenge. Ever since then, Earth has been battered with ruthless tsunamis, terrible floods, and unforgiving hurricanes, claiming many lives.
The rein of Ophelia the Tempest would carry on for centuries, as her rage towards humanity spiraled out of control. But there is
always
a calm before the storm. On one rainy night, Eirene's pipe was stolen by a lowly merchant while Ophelia was sleeping. The pipe would be sold and resold, circling the Earth many times, before it ended up in my grandfather's hands as a family heirloom.
<Present Day>
It is a day after my grandfather's funeral, and
fittingly
, it rained. In his will, he left
me
specifically a strange flute like instrument given to him by his father. I remember him telling me stories about this pipe, and how it was the treasure of a goddess. They were entertaining stories as a kid, but I've grown up now, and no longer believe in such silly fantasy.
I placed it in the old shrine's storage room, a piece of property we inherited from my grandparents. The Shrine over looked the lake that we visited plenty of times during the summer, and this summer, even though my grandfather would not be joining us,is no different. I brought with me, a pale filled of water from the lake, and sought to clean the shrine of its dust and dirt. A
drop
of water touched the pipe and it
rattled
. What happened next, was unbelievable.
ooc: Especially made and closed for stilldoll!!
Plot and its execution is completely original
Please do not take/bastardized.
Characters: Who do YOU serve?
Anton and Spade
Anton (left) Spade (right)
Anton
Anton and Spade are the main companions of Eirene and Aeolus. Anton is first encountered at the subway platform station. He takes a seat next to Eirene, and compliments her for her beauty. Aeolus interrupts the scene, because they are on a mission to purchase a camera for Aeolus's mother, Amelia. As it turns out, Anton works at the Photography store
SNAP
where Aeolus needs to purchase the camera. It is at
SNAP
that Eirene and Aeolus meet Spade, an overworked, underpaid store manager. Anton, seems to know
a little bit
about Eirene and Aeolus's predicament, and without beating around the bush, introduces himself as a 'follower' of Aphrodite.
The tattoo on his neck helps secure that, but, it is different from all the other followers of Aphrodite, for his heart is
filled in
. It will later be discovered that Anton is a dangerous daemon branded as
Wanders
or
exiles
, he betrayed his last master, and received a skull tattoo because of it. Anton traveled to the present to get the heart tattooed
over it
. However, he seems to be very content with Aphrodite, and it is there he will stay. Anton gifts Eirene a
broken heart
, a red gem that allows other followers of Aphrodite to locate each other in the modern world, it is so that he can track her later.
Anton, is a very knowledgeable character despite his beauty obsessed, ditsy moods, in fact, he was the
first
character to piece together that Eirene was from the old world, and that she
needed
a way back into the past. He is also the
first
character that can
sense
the blood of Ares in Aeolus, he calls him a 'Royal Lapdog', when ever Aeolus is rude to him. Anton proposes a deal for Eirene and Aeolus that is
perfect
. He convinces the pair to try and retrieve a hair clip from one of Athena's daemons, because the hair clip, belonged to his Goddess, Aphrodite.
If they can do that, Anton will allow Aeolus and Eirene to pass through Aphrodite's catalyst.
The Rift of the Mirror
, which Anton is responsible for protecting. To sweeten this bargain deal to Aeolus, Anton even offers to give a 50% discount on the very expensive Canon camera that his mother wants: a Powershot G12. Aeolus agrees. Anton then accompanies Eirene and Aeolus through the journey in the old world. He is able to get Eirene, Spade and Aeolus into Aphrodite's palace, who normally would have been upset at unannounced visits. Anton gives Aphrodite her hair clip, and she is happy once more. In return, she gifts the travelers a bag of crushed black rose petals, and tells them that it will come in handy if they travel to
ugly
places like Licentia and the Netherworld.
Spade
Spade has
unwillingly
yet
fittingly
been made the supervisor of the store
SNAP
where he and Anton works. This, is just a rouse however, as it it common that Gods and Goddess station their daemons close to one another in an effort to spy on each other. Unfortunately, this was an utter screw up by their masters. Eirene notices Spade when he is taking a smoke break outside. She informs him that smoking is detrimental to his health, to which he lets slip, does not matter because he is a daemon. Eirene, substitutes his cigarettes for a cup of enchanted water, and the daemon is at ease. The tattoo of a sword on his neck identifies him as a foot soldier of Ares, a God who has many followers. Spade eavesdrops on the deal between Anton, Eirene and Aeolus, and
refuses
to be left alone to tend the shop. So, when it is time to pass through Aphrodite's mirror, Spade,
forcibly
tags along.
It is later discovered that Spade is a male of his late twenties, and of German decent. He follows Ares because the daemon is impressed with his tactical might and pure power. He aspires to one day, be as strong as his lord, and is seemingly blind to his corruption. Ares trusts Spade, but does not favor him more than Aeolus, his best soldier. Spade, is mostly over looked when it comes to his opinion, but he is still
very
much valued by the group of travelers. Spade keeps everyone in line, because he
is
the oldest, he feels the urge to
father
Aeolus and Eirene, and even Anton when he gets out of hand. The journey he takes with Eirene and Aeolus strengthens his bond with Anton, and the Goddess Eirene and Anton serve.
Spade is allergic to the roses in Aphrodite's garden, and is equally allergic to Artemis's wolf pet Oblivion. Eirene, Aeolus, and Anton are allowed to meet with Ares because of Spade,and are taken to his throne room where Ares provides them with their lengthiest mission yet.
Although Spade is rather easy going and calm on the outside, once his rage is sparked, he carries in his blood the fearsome strength of Ares. Like many of Ares's followers, Spade is prone to
Episodes
, the deemed nickname for when a follower of Ares is enraged. They are nearly impossible to stop when in their Episode, but they are usually short lived. Spade later seals his legacy in Ancient Greece, not because of any epic escapade, but because he managed to out drink Aphrodite at at Festival in Constantinople.
Aphrodite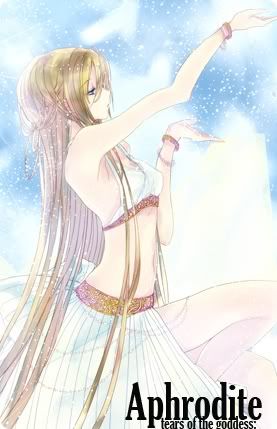 Aphrodite
The Goddess of love and beauty, Aphrodite is the
first
Goddess Eirene and Aeolus encounter on their journey to break the seal of the pipe. A beautiful woman, Aphrodite is responsible for the relationships that mankind has with one another, she decides who stays together, who gets married, and who breaks up. When Aphrodite is
unhappy
, couples who would have normally stayed together and gotten married, are cursed, and their relationship is doomed to fail, so it is very
crucial
that Aphrodite is satisfied.
All followers of Aphrodite have a heart tattooed on their necks, and the heart is always open, for black is a color she detests, and will not allow it to fill her heart. For a while, Aphrodite has been upset because she was punished by Athena. Aphrodite experienced heartbreak, and, in turn, humanity was
forced
to sympathize with her. Athena deemed this a blatant misuse of her power, and took from Aphrodite, her favorite hair clip. The hair clip was entrusted to
Mai
a shop keeper of
Laces and String
, and fittingly, one of Athena's daemons. The hair clip, without Athena's knowledge, is given to Eirene and Aeolus. Mai feels that the Goddess Aphrodite has learned her lesson, and it is time to give the hair clip back. Besides, the hair clip, like any ornament of Aphrodite, attracts men and women who have lonely hearts, and Mai can not deal with the attention. When the hair clip is returned to Aphrodite, love blooms again for humanity, and it is twice as strong. Aphrodite will be encountered at any major festival or party, for Aphrodite is a social butterfly.
Aphrodite is seen as an ally to Eirene and Aeolus, and will assist them as much as she can during their journey. Aphrodite does not favor Eirene's sister Ophelia, despite once being fond of her in Ophelia's youth. For like Eirene, Aphrodite is a servant to humanity, and she too, has suffered from the wrath of their greed and hatred, and yet, walked a completely opposite path than Ophelia. Out of her respect and friendship with Demeter, Aphrodite
tolerates
Ophelia.
Apollo
Apollo is the
fifth
God that the group encounters. Apollo the God of the sun, is known to have a very
obvious
crush on Eirene. Despite being centuries old, the God is still stuck in the body of a preteen, this
inherently
ruins any chances that he has of Eirene seeing him as a suitable mate. Apollo is the God that created the special collar for Oblivion, so that his nightly patrols could be made easier. Apollo, despite his size and stature as a God, often feels inferior to Gods like Ares and Hades, who have matured completely. Apollo is particularly fond of Eirene because she does not underestimate, or undervalue him just because of his body frame.
This, results in the male falling in love with her. At one point, he asks himself "How can I get her to see me as a suitable mate?" to which Aeolus replies, "You do not". He is quite envious of Aeolus who seems to have no problem getting close to Eirene. Something, Apollo wishes he could do. He assists Aeolus merely to stay in Eirene's favor. The gang encounters Apollo again at the festival of Constantinople, and he catches Eirene and Aeolus hugging. This enrages the God, and any chances of enjoying the festival are now ruined. It will later be discovered that Apollo will take a journey to the underworld in suit of a favor from Hades. This ultimately results in Apollo being kidnapped by Ares, who has plans of draining the God's power, and using it for his own. Once Apollo's powers have been consumed, Ares plans on plaguing humanity into a shroud of darkness. This day will be coined
Armageddon
. The gates of Hades will open, and demons, who once feared the sun, will flood the lands of the living. This will carry over into the present day world, as many of the demons slip through various
Rifts
.
Ares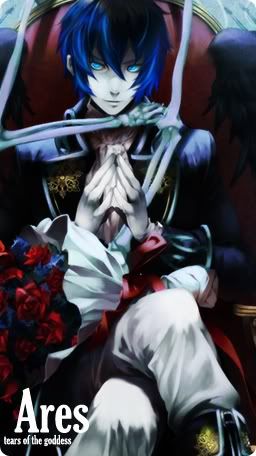 Ares
God of war and carnage, Ares is the
third
God that Eirene and Aeolus encounter. Ares is a bloody character, with a past of death and destruction to match. Found only in the wastelands of Licentia, Ares's provinces are protected by a gap of Earth called
The Valley of Styxs
in honor of his ally Hades, who controls the flow of
The River of Styxs
. The only way to cross this gap is by aerial assistance of Ares's pet bird
Bones
. At the bottom of this pit, there are wooden stakes, so those that fall are doomed to die. This is how Ares executes his traitors, they are blind folded, given one kiss on the forehead
The Kiss of Death
, and are pushed over the ledge,
The Fall from Grace
. Ares is a very serious and feared God. His
assassins
are marked with a very special tattoo that is different from the standard sword. Their tattoo is a serpent coiled around a dagger, and they are nicknamed
Snakes in the Grass
. It will later be discovered that Aeolus has this tattoo and in the most obvious of places, his forehead. To send an assassin of Ares to another God is equivalent to declaring war.
It is recommended to Eirene from a daemon that resides in the Library of Atlantis, that she may need to seek the aid of Ares, for the pipe has been tainted. So begins their journey to Lacintia.
The history between Ares and Eirene is tainted with bad blood. Ares was fond of Eirene's healing qualities, and kidnapped her to become a personal priestess for his solders and assassins. Eirene eventually escaped and decades passed without them speaking a word. The God
assumed
that he would let bygones be bygones, and that they could move from that darkened part of their relationship, he was wrong. Ares, however, willingly helps Eirene and Aeolus because he is missing a certain weapon from his treasury that he loves dearly. Ares explains that, one day, while having a friendly duel with
Poseidon
, the two Gods decided to up the ante by placing their favorite weapons on the line. For Poseidon it is his trident, and for Ares, it is his
Serpent's Fang
a special dagger gifted to him by Artemis.
The dagger's tip is forever drenched in the poison of a Black Mamba, and whatever strike it lands upon its foe is destined to be fatal. Ares then explains that Poseidon, who was on the verge of losing, cheated to win the fight, and that he took the dagger with him into the
pure
waters of the Aegean Sea, a place that Ares could not enter. However, he has a hunch that
Eirene
can, and this makes her the only person suitable for completing this mission. In exchange for her efforts, he is willing to part with a special scroll, and a
Book
of Athena's past.
Ares assures Eirene that the scroll contains the secret to breaking the seal on her pipe, but also informs her that she will need Athena's assistance in doing so, for the scroll is written in a dead language, and many residents of Greece will not understand it. He hints that perhaps one of Athena's scribes will be able to decode it, and thus parts with another token, a book of Athena's childhood. He believes that this will definitely sway Athena's hand and will convince her to help them.
Ares is a shady character, and it is evident that he is
up
to something. His intellectual might rivals that of Athena, and in some cases, even surpasses it. Eirene
hates
visiting Ares, but the fates have always invented little quirks for them to cross paths. Ares is a God of little words, but thousands of meanings, so when he has something to say, you
better
listen.
Artemis and Oblivion
Artemis and Oblivion
Artemis is the
fourth
Goddess that Eirene, Aeolus, Spade, and Anton encounter. A friendly ally to Demeter, Artemis is the Goddess of the hunt, who, like her brother, is
oddly
stuck in a the body of a preteen. Being just
that
Artemis is
the
most
informed Goddess around for she has the
ears
and
eyes
of nature. With the mentality and immaturity of a preteen, Artemis is often very
loose
with the secrets she hears. She lets it slip to Eirene that
Ophelia
has created a scene at Mt. Olympus, by accusing Hera of corruption. It was an outburst so bold,
Ares
had to take responsibility for it, and dismiss the actions of Ophelia to be caused by an illness.
The only place in which she does not have information is that of the realm of Hades. Artemis's forests are protected by a
enormous
beast, Oblivion, who patrols the forest for any intruders. He is known to eat mortals, for Artemis makes the comment to Anton, "Oh, and tell your Goddess to stop sending foolish mortal men into my woods, Oblivion grows tired of human meat" (Aphrodite is constantly trying to make Artemis fall in love and wed)
The travelers encounter Artemis while trying to make their way to the Aegean Sea. Artemis explains that the only way to get to the Aegean sea is to cross through Hephaestus's Flat lands, and to travel through there is literally, a death wish. The land of liquid fire is covered in such a thick fog, that one can not even see five feet in front of them. The flat lands are also filled with craters, that if one falls into, they will burn to death. Sensing a problem, Artemis offers to trade Oblivion's services for a little
favor
. Oblivion has a collar around his neck gifted to him by Apollo, it contains the brightest energy of the sun, and will guide them through their journey of the flat lands.
However, they can only use Oblivion
if
Eirene agrees to bathe Oblivion in the Aegean Sea, for he is too large to fit in any lake that runs through her forests. Eirene agrees, despite Spade's clear allergic reaction to the wolf's fur. At his master's command, Oblivion instantly warms up to his travelers, and guides them through the flat lands to the summit where the Stone Palace of Hephaestus resides. Followers of Artemis have an arrow tattooed on their wrists, and are blessed with the speed and accuracy of nature.
Athena
Athena, is the
seventh
Goddess that the company encounters. Goddess of Knowledge and Wisdom, Athena can be described as a morally just Goddess, whose role is similar to the Lady of Justice in modern times. As strict and as straight as a ruler, nothing slips Athena's careful eyes and ears. The travelers seek Athena because of Ares's recommendation, for Ares has given them a scroll that he claims to be able to break the seal on Eirene's pipe.
Ares, lied, and, in truth, gave them a scroll that was a recipe for a common stew. However, the book that he gifted the travelers with, was, at least legit. The book, as Ares predicted, persuades Athena into helping them. Athena instructs
Torus
one of her most trusted daemons to find the
appropriate
scroll. She informs Eirene that the key ingredient to breaking this seal is a root from
The Tree of the Dead
, which, could only be found in the
Underworld
. Another key component, is a bitter wine, and she hunches that only
Bacchus
would have such an ingredient. She insists that they visit Hades, along with Bacchus, and return to her with the root and wine. Once this is complete, she promises to remedy the seal on the pipe for good. However, she too, is quite curious as to how the pipe was stained with
Human blood
, corrupting the seal even further.
Athena is fond of the
Lolita
clothing that one of her present day Daemons, Mai, gifts her. She has fallen in love with the style, enticed by its elegance and dramatic Gothic features. She only dresses this way in her study, which is
locked gate
behind a
door.
Athena's library contains
state of the art
security, as the corridors and stair cases, all change to her desire. In short, if she
insisted
on you leaving or
staying
, one would be forced to do, just that. Secretly, the Goddess also holds a soft spot for
Ares
, for his strategic strength in the art of war, is something she respects and admires. (Despite him stealing from her many years ago.) Athena and Aphrodite share a
love/hate
relationship, as it was with them, the century long battle of
Beauty VS Brains
began, and still continues, to this day.
Demeter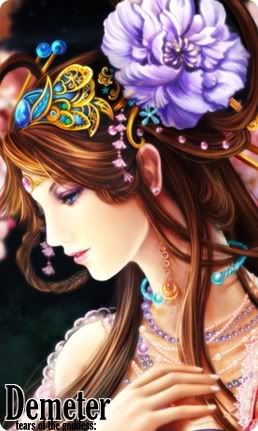 Demeter:
Demeter is the
second
Goddess that the travelers encounter. Demeter is mother to Eirene, Ophelia, and Persephone. Persephone is the oldest, followed by Ophelia, and Eirene, the youngest. Demeter is a generous goddess, and is highly respected for her affinity of the seasons and their influence on nature. Her oldest daughter, Persephone was kidnapped by Hades in her youth, and tricked into marrying the God of the Underworld. Heartbroken by the disappearance of her child, the harvest completely died and the seasons drew cold.
Humanity could not survive these conditions, and began to fall to a great famine. Persephone was returned to Demeter, introducing the season of Spring. Persephone is allowed to stay with Demeter for a couple of months, and them must return to her husband Hades. In these months, Demeter is
truly
happy, the crops and fields flourish, but when Persephone's time is up, the fields die and Demeter is depressed once again. Demeter is a wise mother, but unlike many of the Gods and Goddess is
not
a servant of humanity, although, she does befriend the species.
Demeter is a hospitable Goddess, and in the months that Persephone is absent, allows some crops and fruits to grow to sustain man kind. Out of all of the Gods, she is the most neutral, and like Eirene, prefers to be optimistic than brooding. It is rumored that Eirene and Ophelia's father is
Poseidon
, but Demeter
conveniently
forgets that chapter in her life when ever Eirene questions it. The land and sea share little in common but the shore, and now, their two daughters. It is unknown how Poseidon and Demeter met and fell in love, but Demeter almost will never confirm the theory. Demeter's palace is a place that the travelers often visit, as her waters sooth their tired and aching bones. The hot springs of Hephaestus rival this,but Demeter's waters are so much
easier
to access.
Demeter is completely in the dark about Ophelia's actions towards Eirene, and if she found out
Demeter
will severely punish her daughter for such heinous acts. Although Demeter is naturally
gentle
, she carries the wrath of the cold seasons, and is not afraid to use this power.
Hades
Hades:
The
eighth
God the travelers encounter, God of the Underworld and conqueror of the dead, Hades's army is
the
largest army in
all
of Ancient Greece. Husband of Persephone, Demeter's oldest daughter, Hades is seen at first as a humble and charming Lord who has little patience for kindness and even smaller patience for sympathy. However, years and years of being in the presence of the bubbly Persephone has begun to erode against his apathetic demeanor, and he is a little more lenient now than he ever was. The travelers descend into the underworld via Demeter's
Rift of the Garden
. Demeter is the only Goddess whose Rift serves two purposes, one to lead into the underworld, and two, to return to Ancient Greece.
With the Medallion of Nocturne gifted to them by Athena in hand, the travelers descend into the realm of the dead. By passing Cerberus with a mere chew toy, the company entered the castle of the first realm of Hades known as
Limbo
. They were greeted by the ghost of a maid known as Emilie, who was murdered by her master's wife who suspected them of having an affair. She was innocent of the crime, but was sent to Limbo due to her never being baptized. She says that mortals visiting the realm of the dead was extremely rare, and that her master would be with them shortly, for Hades was
all
around.
Just as Emilie predicts, Hades is seen exiting the throne room in his
human
state, he is the
only
God with two different forms. At first, Hades appears unwilling and too uninterested to help them. With a bit of pleading from Persephone, and noticing the tattoo on Aeolus's forehead, Hades is willing to listen to their request. He tosses Aeolus a
pomegranate
to which Persephone gasps at, it was the very fruit that trapped her in this place. Noticing this, Aeolus refuses Hades's false act of hospitality. The conversation returns to exactly why it is they are here. Aeolus explains that they need a root from
The Tree of the Dead
, as it is a required ingredient to cleanse the blood that has been stained on the pipe. Hades, at first, laughs at this request, saying that if he parted with such a risky object, it would only result in trouble for
him.
Hades explains that if the root from the tree ever touched the soil of a mortal world, it would open up a rift into his realm at that very spot. A rift that could never be undone. Hades appears to be very eager to dismiss them, but not before he makes the comment of something very
dark
lingering in the presence. He is referring to the Medallion of Nocturne kept secure in Aeolus's pocket. He reveals the Medallion, securing Hades's hunch about their involvement with Athena earlier.
Hades, has already unraveled their plan, which was to trade the Medallion for the root, to which Hades informs that he is uninterested in, for the Medallion belonged to him in the
first
place, and it really wasn't much of a
trade.
. However, he claims that he is willing to part with the root if Aeolus eats
five
seeds from his pomegranate. Hades is baffled at the fact that Aeolus contains the tattoo of a high guard of Ares, and yet his eyes do not reflect the accomplishments needed to be achieved to attain such a status. Hades reveals the seeds with an open palm, claiming the seeds to be a 'Food for thought'. Aeolus, unaware of the trap Hades was setting, agrees to eat the seeds so that they can retrieve the root for Eirene's pipe.
Each seed, contained the untapped memories of the previous five lives Aeolus lived, and this serves to reawaken his memories completely. After Aeolus receives the root, Hades hastily rids himself of his visitors, claiming that their presence made the undead restless, and they are transported back to the surface world via
Rift of Shadows
Hades's Medallion of Nocturne is not as
useless
as Athena had predicted, in fact, it is serves as the very catalyst that siphons Apollo's light.
Hephaestus
Hephaestus:
Hephaestus is the
sixth
God that the travelers encounter. God of Volcanoes and architecture, Hephaestus resides in the
Flat Lands
that are plagued with active volcanic craters. The flat lands border Artemis's forests, and servers as a security measure for those who wish to intrude into her forest from the west. There is not a place in Ancient Greece that doesn't have
a touch of Hephaestus
, even the gate to Hades's realm was constructed by the God.
When the gang approaches the Stone Palace of Hephaestus, he is kindhearted towards Eirene, for he has heard of her powers to mend aching bones and sooth all wounds. He tells her that they are allowed to enter but
only
if Eirene provides him with a cup of her mystical waters. She agrees and they are allowed into his palace. It is here that they meet Melody, who is drawn to Anton's
fiery red hair
. Instantly, she develops a crush on the daemon, for her heart is indeed lonely. There are no visitors for Hephaestus.
In Hephaestus's Stone Palace resides
The Stone Rose
, also known as Serenity. Many mortals risk their lives to witness The Stone Rose for themselves, for she has the beauty and allure of a Siren, and the powerful stature of a daemon. She is the older sister of Melody, and their relationship is bitter sweet. Serenity is the daughter of Hephaestus's brother, who fell in love with a siren off the coast of Aegean Sea.
Melody can not
stand
her sister Serenity, even though Serenity loves her sister dearly. She feels completely inadequate in comparison, and is often living in her sister's shadow. Even
Anton
is drawn to Serenity's beauty when they meet. Melody begs Eirene to take her with them on their trip to the Aegean Sea for she has never been, she has
never
stepped foot passed the palace gates and desperately wants to see the world. Eirene agrees but insist that she is
Anton's
responsibility, delighted and appreciative, Melody tags along on their quest to retrieve the Serpent's Fang. Melody actually proves to be more worthy than they had expected, for she knows of a passageway to Poseidon's palace on land. She was often told stories about the building that her Uncle Hephaestus created, and informs them that Poseidon's palace is located in a sea cave that has a trident engraved on the side. This saves the travelers hours of countless searching.
Once their trip to Poseidon's city Atlantis comes to an end, Anton returns Melody back to the Stone Palace, and she thanks them for the adventure, claiming that she now has a 'one up' over her sister. She got to see the city of Atlantis, a privilege not many land dwellers are allowed.
Ophelia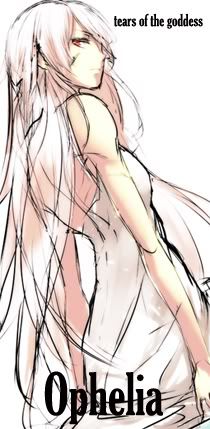 Ophelia:
Poseidon
Poseidon:
Poseidon is the
seventh
God that the company encounters. God of the ocean and seas, Poseidon is on the top tier of most revered and feared Gods. He can live on both land and sea, making him a famous god of both realms. Carrying with him the might of the sea, Poseidon is only accessible to land dwellers by a man made cave constructed by Hephaestus. Followers of Poseidon are identified by the tattoo of a fish on the left side of their neck. However, most of the followers of Poseidon are
Mer-People
, and reside in Atlantis. His surface daemons are scarce, but they
do exist
Poseidon is a very versatile God, he can either be tranquil and calm, or harsh and unforgiving. It is hypothesized that Eirene inherited his good side and Ophelia, his
bad
.
The rumor about Poseidon fathering Eirene and Ophelia is even more secured in Atlantis, for the city is adorned with many portraits and sculptures of the two. When the gang encounters Poseidon, he is at first unwilling to help them, until he sees that Eirene is with them. Poseidon attempts to sidestep Eirene's request, but like every father to his daughter, he holds a soft spot for her, and eventually bends over backwards to fulfill her wish.
The city of Atlantis is protected by Poseidon and only
Mer-People
can enter it. The path to Atlantis is an illusion trick that requires those wanting to enter to swim into a black almost seemingly endless abyss. Surface dwellers are allowed to enter but only if they cloaked by Poseidon's special
Water Tunic
, which gives air breathers
gills
. With Poseidon's permission, they are allowed to reposes The Serpent's Fang, and Poseidon reveals as to why he took it in the first place.
Ares was using its power to poison rivers and oceans that humans relied upon, killing many mortals, and many of his followers in the process. So, to punish the God, he took the dagger from him, and sealed its power away in a bubble of purity. Poseidon then used his powers to cleanse any water that was tainted by the Serpent's Fang, restoring the life of the seas.
Poseidon leads the life that modern civilians would label a
bachelor
. He has the charm and sway of the sea, and can have
any
woman he wishes, even Demeter.
Second Arch: Gods of the Plague
Plot Synopsis:
After successfully unsealing Eirene's Pipe, our two main protagonists, Aeolus and Eirene, return to the present via
Rift of the Pages
a page from Athena's self producing Encyclopedia. Much of Aeolus's summer has been spent removing the seal on Eirene's pipe, and thus, his senior year of high school begins. Aeolus, is finding it extremely difficult to mold into the normal high school life, as, the seeds from Hades's pomegranate are beginning to take affect. The first demonstration of his power comes when playing a simple game of football (soccer), when Aeolus fractures the shin of an enemy player, just by colliding with him. Shortly after, it begins to rain, and for the next three days straight, it continues to do, just that. The monsoon season, is among them.
As the days continue to pass, Aeolus notices something
strange
about the sun. The outer rings of the sun appear to be laced in
darkness
, not only that, but the days appear to be getting
shorter
. The Medallion of Nocturne was not as useless as Athena predicted, in fact, it is on the verge of siphoning all of Apollo's powers. Weird enough, the students of Nagoya International Senior High School, are falling victim to an infestation of
Sea Drakes
, water like serpents that are faithful servants of Poseidon and
Ophelia
. If
consumed
these Sea Drakes lay eggs in its host, using its body as a nest. The eggs, that can take up to twenty four hours to hatch, hatch
inside
the host. The Sea Drakes them swim through the blood stream, and possess their victim, controlling their thoughts and actions. These
hosts
have but one mission, to kill Aeolus Summers.
In the Underworld, Hades is preparing for operation
Armageddon
which can only commence until the sun is completely blotted out. To stop this, Aeolus and Eirene will have to travel back to Ancient Greece and seek the aide of a legendary Goddess named
Nyx
. Nyx informs them that one of Hades's general,
Lucifel
has the key to Apollo's prison, and that it is going to take more than sheer strength to stop him, it will require the complete reawakening of Aethon in Aeolus. As the human realm becomes plagued with shadows, and trampled by floods, will Eirene and Aeolus have the strength to stop Hades and Ares?
Characters
"Hex-tech"
Highschool friend and rather flirtatious Daemon, Hex Tech is a servant of Zeus who prefers to reside in the present time versus the technologically impaired past. Hex Tech, or Phoenix, is one of Zeus's favorite Daemons, as his ability to gather information is astounding. Phoenix is responsible for hacking the system to allow Eirene entry into the high school Aeolus and Hex attended. Hex also pulls information on Lucy, the next daemon they need to contact. He modifies her schedule so that they have the same homeroom.
Phoenix is extremely gifted in hacking and reprogramming technology, there is almost nothing that isn't modified by his touch, and Hex can always be seen with the latest gizmo. Hex Tech has a bit of a crush on Eirene, although the two Daemons never crossed paths in Ancient Greece. Hex Tech is more familiar with Eirene's sister Ophelia, who had a small infatuation with the male. However, it was just a fling, that ended almost as quickly as it started. They are something of enemies, for Ophelia betrayed Hex Tech's trust when she left him for Ares.
Lucy
Reply
You don't have permission to post in this thread.
---
I'm posting programming and technology video tutorials again as JimmyRcom on youtube. Please follow!
-- Your loving webmasta who works hard to keep the site free and efficient
Roleplay Responses
Roleplay
1
2
3
4
5
6
7
8
9
10
..
50
All posts are either in parody or to be taken as literature. This is a roleplay site. Sexual content is forbidden.
Use of this site constitutes acceptance of our
Privacy Policy, Terms of Service and Use, User Agreement, and Legal
.