Vampire Drought
Replies: 1 / 2 years 270 days 14 hours 18 minutes 32 seconds
A mother vampire is holding her baby smiling as the baby coo's cutely.The father comes in and spends time with his family.It was a baby girl named Victoria.Then it happened.Humans with pitch forks and torches knocked down their door.They were sure they were hidden.Can this be the end?The last family of vampires were about to be killed.Hours after the brutal attack the baby wailed and cried.The huamsn didnt not harm the vampire baby thinking that it would die from starvation.How cruel.But there was one human who stayed ehind.A elderly woman who just couldnt leave the infant their no matter what it was.She took Victoria under her wing.
Years later when Victoria turns 19 the elderly woman that took care of her from birth was killed for hiding a vampire for so long.Now having no one left and beliving she was the last vampire she runs and escapes to a distant city near the outerskirts of a state she does not even know.
She learns to live on her own and takes care of her self but there's this never ending feeling of loneliness now that there no other vampires such as herself.
That all changes when she meets Mikel a 23 year old vampire who also belived he was the only vampire.They did not reveal their true identity until their very first kiss.They surprised each other now knowing they found one another and now they have to think of something.
It didnt take long for them to realize that they had to reproduce children in order to keep the vampires alive.Making them Mother And Father of all vampires.
This is their story....
Details
Victoria-Me
Mikel-Open
No cybering
No short sentences
If your not passionate with your rping then this is not for you
Reply
---
I'm posting programming and technology video tutorials again as JimmyRcom on youtube. Please follow!
-- Your loving webmasta who works hard to keep the site free and efficient
Roleplay Responses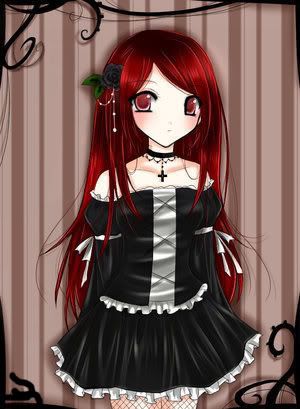 Dear Diary,

"Is it so hard not to think about how dreadful it is to be the last survior of your kind?"The humans havent noticed but...I fear that I might have the same fate as my parents...If that happens then we will really be wiped out...for good.How can I rebirth the vampires?"There has to be a way...Oh if only I had the guidance of Grandma,may you rest in peace."I am ending today's entry with another one of the thousand wishes for any other vampire to be out there searching just as hard as I am."

Sincerly,
Victoria

Victoria sat on the porch of her little studio apartment her grandmother bought her before she past away.She sat there as a cool breeze went over her.She looked up before standing up thinking about where to go today and where there is a new place to explore for another vampire."I've looked and looked but it just seems like its leading to no where..."She said sighing and leaving her aparment to go into the city. She walked the path of the loud and noisey central city.

"Nobody that I dont know...Uggh its like all these humans do is party..."She said not minding partying one in awhile but every night?"

Roleplay
1
All posts are either in parody or to be taken as literature. This is a roleplay site. Sexual content is forbidden.
Use of this site constitutes acceptance of our
Privacy Policy, Terms of Service and Use, User Agreement, and Legal
.